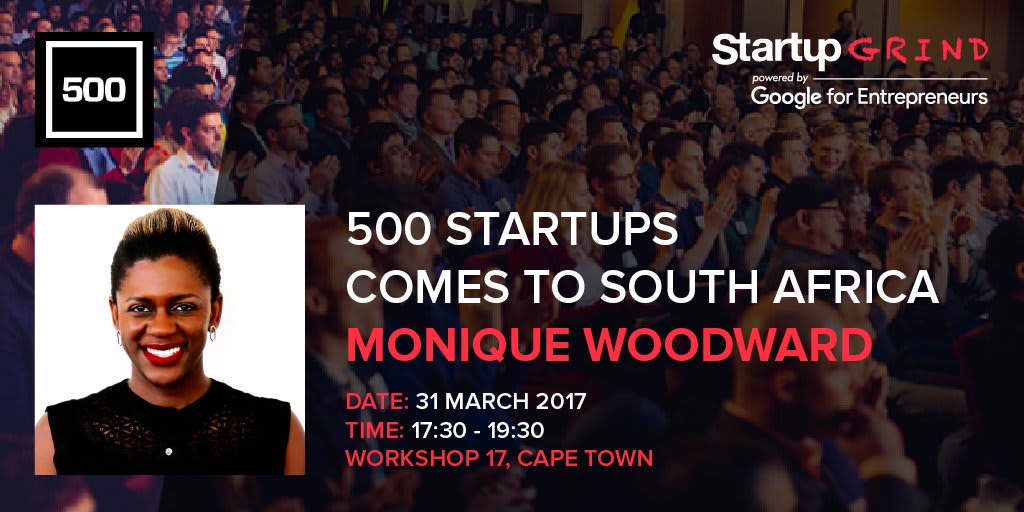 Silicon Cape + 500 Startups - a night of all things VC
That's right... GeeksOnAPlane will be in town on the 31st March and boy are we going big!

Silicon Cape and Startup Grind - supported by some great partners, are hosting a big event on Friday 31st March.
Monique Woodard is a Venture Partner at 500 Startups where they invest in early stage startups and leads a $25M microfund that invests in Black and Latino founders and emerging multicultural markets.
Here is your opportunity to find out more, and ask her anything you need to know about how to get the attention of investors.
There will also be 25 other VC's and Community builders from all around the world at the event.
Startup Grind Global Conference 2017 - See what went down
It was great to see 3 South African companies represented at the Startup Grind Global Conference
1.) Rodney Kuhn from Sortd (Watch this video clip HERE)
2.) James Muir from MediaBox
3.) Daniel van der Spuy of Shark Tank fame with his MedTech device, the Lazarus
Watch this talk from the conference with Jan Koum, the founder of WHATSAPP (the road to 1 billion users):
https://www.youtube.com/watch?v=xbYprCoLsvY
FUN Nights in Cape Town
Like to learn from those that have failed, then attend the 3rd Cape Town installation of F.ckUp Nights at this funky bar in town on the 4th April.
#YouthStart Entrepreneurial Challenge
Created by the City of Cape Town, the #YouthStart Challenge aims to provide young Capetonian entrepreneurs with an opportunity to either grow their business or get it off the ground.
More Info via Ventureburn + Application Here
Be Featured on 702
Are you a startup founder looking for that big break? South African startups have an exciting opportunity to be exposed on national radio and to be coached by well-known talkshow host and entrepreneur, Pavlo Phitidis.
More Info via Ventureburn + Application Here